This week I have been working on the Christmas Traditions Quilt.  Our group now has all but 1 of the blocks done.  My quilting finger is currently all tired out.  I will give it a few days and probably start back to it on Thursday. 
While giving my fingers a break, I decided it was time to pick the knitting back up.  I wanted to put something on my needles, for those time waiting at Weight Watchers or a doctors appointment.  After making a few pairs of socks, it is time to try something different.  Our family does not need another blanket in the house, no afghans patterns.  I do not like anything around my neck, no scarfs. The purchased mittens are perfect as they are.  So what can go on the needles that is useful……a top of some sort.  Off to the library, 3 of them actually, checked out about 12 knitting books.  Finally, a pattern that isn't too hard, that is attractive and isn't such a large commitment that it will be years before it is finished.  This yarn was purchased at Hobby Lobby on clearance for $1.79 a skein, back in May on a trip to Chicago area with DH.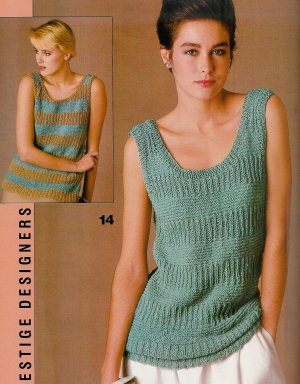 It is a smooth misty grey made of bamboo rayon and acrylic, and just feels wonderful. This is the goal.  It should look nice under a cardigan (especially one hand knitted in a year or so) or a suit coat.  The hot flashes have been starting up again and this won't be too warm, even with something over it.
Time to call it a night. 
Happy Quilting or Knitting,
Just Another Quilter